It is inevitable that every man who builds his own man cave in his home will look at the finished product and feel like something is missing. You have put countless hours into creating your man cave, and now you feel like you are not quite done. For those men who cannot figure out why their personal space seems incomplete, there are a few pieces of decoration you should be looking for that are mandatory for every man cave.
Autographed Jerseys
Whether it is autographed football jerseys or official hockey jerseys signed by your favorite players, no man cave wall is complete without some jerseys hanging around. Most guys have their favorite autographed jersey that has been sitting in their closet for years and looking for a place to hang. But even if you don't have that treasured sports keepsake, you can still get one and complete your wall decor.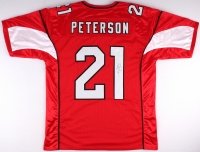 Neon Signs
It used to be that neon beer signs were mandatory for every man cave, but those times have changed. These days, you can get a neon sign in any format and it will look great hanging on the wall of your personal space. There is something about the glow of neon that is unlike any other light in the world, and that glow is what is going to make your man hideaway complete.
Road Signs
In some respects, a man cave acts a lot like a college dorm in that it is a place for the guys to meet and have some fun. A lot of dorm rooms have road signs on the walls, and those road signs carry over to when men buy their own homes. If you are looking at your man cave walls and feel like something is missing, then you may be missing your college days and need those road signs to make you feel right at home.
Sports Logos
You may have remembered to put your favorite team's logo on the wall of your man cave, but leaving out the rest of the league makes your walls look bare. You can show your colors for your favorite team and flash the rest of the league's logos to make your walls look stylish.
A man cave is a getaway that is supposed to show off your personality. But guys like guy stuff, and there are a few mandatory items you need on your man cave walls to make them look perfect.