Remember those moments when as a child you were asked, "Who is your favourite actor?", and you screamed, "Me!"? Or maybe when you were asked, "Who is your favourite singer?" and you proudly pointed at yourself? Then think of the time when you were asked your favourite movie. You don't remember pointing at yourself and beaming, do you? Well, now you can.
Making a movie is longer a professional's job: expensive, full of intricacies and technical know-hows. Technology has really simplified our lives.
With a camera full of moments and a mind full of fantasies, you too can make your own video. You can now magically transform all the moments you thought weren't even distantly connected, to a train of thoughts, incomplete with even one piece missing.
The movavi video editor, unlike other softwares, is cheap, user friendly and simple. It offers you a nifty interface with a plethora of video effects which can give your home video that professional edge. The features once feasiblein high end softwares, are now available in this basic software.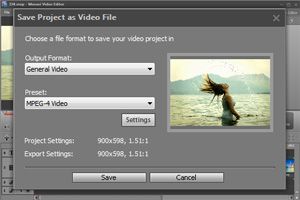 The two most essential features of movavi video editor are: it supports popular formats like AVI, MP4 and others, and, you can burn it to DVD or even upload it on YouTube directly.
To invigorate your movie you can add animated clips or motion backgrounds, and even add and edit 3D videos. The editing can be done on two modes: storyboard- for basic splitting and joining of clips, and timeline- for advanced options like adding separate audio, video and title track. To jazz up the video, you can choose from an array of exciting transitions.
Now, your very own personalized raw footage can be converted into a Hollywood style movie in five magical steps.
Download and install: Download the movavi video editor and follow the step by step instructions to installation. You can also download the seven days trial pack from the site.

Launch and Add Media Files: Launch the application and add the audio and video media files by clicking on the Add Media File option. You can groove up the movie by with the multitude of features available. To suit your various moods, there are expansion packs accessible with extra effects and transitions.

Select the Editing Mode for your Home Movie: Starting with the Storyboard, click on the icon above the work area. Dragging the video files to the panel at the bottom of the program window, sort them into your desired order.

Transition, Music and Titles: The Fades button will allow you to choose a transition. Drag and drop them onto the storyboard between the video footages.
For a music video, the editing mode will shift to Timeline once the audio files are dragged and dropped to the work area. To make sound fade in and out, right click on the file on the Timeline and select Fade in/out option, then control the speed and volume.
The Title button will allow you to select the title type-drag the icon to the Title track. It can be stretched over the whole movie or just a part of it. The font size, colour and other specifications can be customized in the Settings option.
Export: Click Save Movie and choose the preferred option.
And, your own personalized masterpiece is ready!